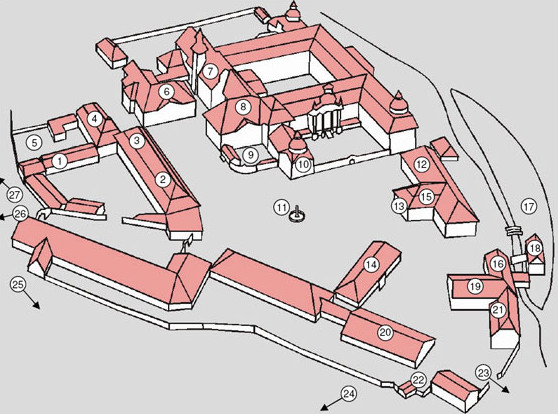 IBZ St. Marienthal
St. Marienthal 10 | 02899 Ostritz
General plan guest houses
1. Guest house "St. Clemens"
2. Celsa Pia House
3. Servants' Hall
4. Guest house "St. Hedwig"
5. Garden of Bible plants
6. Provost's Office
7. Monastery Church
8. Abbey
9. Abbey courtyard
10. Chapel of the Cross and St. Michael
11. Trinity Fountain
12. Former Brewery/ Court Chapel
13. Monastery Market
14. Guest house " House of the family
15. Guest Reception & Bicycle Rental, Office of the IBZ foundation
16. Hydroelectric power plant
17. Neisse Island
18. historical Sawmill
19. Guest house "St. Franziskus"
20. Maximilian Kolbe House [former carpenter's workshop].
21. Public Toilets
22. Wine cellar of the Winegrowers' Community
23. Cycling and Hiking trail through the romantic Neisse valley
24. Easternmost Vineyard of Germany, run by a Winegrowers' Community
25. Station Hill with a view over the monastery
26. to the Monastery Tavern St. Marienthal
27. to the Guest house "St. Benedict"
By car or touring bus
via A 4 – freeway exit Görlitz:
from Dresden: A4/E40 in the direction of Bautzen to the Görlitz exit, continue in the direction of Zittau on the B99. Drive through the town of Ostritz, then look for the signs. Look for the entrance to the parking lot on the left side of the road as you drive up the hill. Parking (also for buses) can be found near the B99 (near the monastery) in a parking lot set up for this purpose. From the parking lot about 300 m (illuminated) walk to the monastery. For overnight guests, free parking is available directly in front of the monastery grounds.
By train
Train ride via Dresden or Berlin to Görlitz station. Continue with the Line bus (Linie 12) to Ostritz or continue to Krzewina Zgorzelecka/Ostritz station. The train station is located on the Polish side of the Neisse River at the Ostritz border crossing (for pedestrians only) and is served by the ODEG (Ostdeutsche Eisenbahn).
Public transport (NVG and KVG)
From Görlitz, station forecourt by bus of the Bus line 12  direction Zittau to Ostritz-St. Marienthal, travel time approx. 30 min. Attention, the stop is not always served! In this case drive to Ostritz-Bergfrieden, approx. 1 km.
From Löbau, bus station with Bus line 32 in the direction of Ostritz St. Marienthal.
You can find an overview of the line network in the district of Görlitz here.
By bicycle
The route goes directly along the Oder-Neisse cycle path to the International Meeting Center St. Marienthal.